Mississippi Business Journal Names The Cirlot Agency's Anna Neel a Leading Business Woman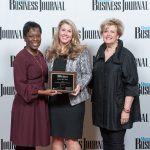 JACKSON, Miss. (February 26, 2018) – Anna Neel, Director of Public Relations at The Cirlot Agency, was among 50 women to be recognized for their dynamic leadership and exceptional accomplishments by the Mississippi Business Journal. The elite group was honored at an awards luncheon held on February 15, 2018, at the Old Capitol Inn.
"As a past recipient of the Leading Women in Business honor, I am very proud of Anna for earning this distinction," said Liza Cirlot Looser, CEO of The Cirlot Agency. "All members of The Cirlot Agency strive to consistently exceed client expectations, giving their personal best to each and every project they work on."
Neel joined The Cirlot Agency in 2015 as Director of Public Relations. Neel works closely with clients to develop and execute integrated communications plans. In addition to managing the Agency's account executives, Neel provides guidance and oversight on client communications and marketing activities, specializing in crisis and issues management.
Before moving to Mississippi in 2010, to join the state's NRDA team on the BP Oil Spill, Neel worked as a publicist for Yamaha Marine Group. Prior to joining Yamaha, Neel had a distinguished career with Habitat for Humanity International as Celebrity Relations Coordinator and Publicist. Neel began her career in communications at CNN after graduation from the University of West Georgia in 2003. While at CNN, she played a pivotal role in the reporting and production of many news stories.
About The Cirlot Agency:
The Cirlot Agency is a leading global brand strategy, integrated communications and business development firm specializing in public relations, creative development and media strategy. The Cirlot Agency represents clients on a national and international basis, ranging from Fortune 100 companies to some of the world's largest privately held corporations. The Cirlot Agency is headquartered in Jackson, Mississippi, with offices in Washington, D.C. For more information, please visit www.cirlot.com.